Facebook Video Player is an API which can be embedded in Facebook, and enables you to watch videos online. However, when you don't have Internet connection, you may want to know the alternatives to Facebook Video Player that allows you to watch videos offline. This part will introduce the top 10 Video Player for Facebook, which are helpful for you to watch videos on your computer.
This article introduces the top 10 Facebook Video Player, and it also offers you a way to download Facebook videos with simple clicks.
iVideoMate Video Downloader - 1 Click Download Facebook Videos
Download HD Video from YouTube, Dailymotion, Facebook, Twitter, and more
Download YouTube to MP3 directly in high quality.
Download HD video song and audio tracks from YouTube and other sites.
Download YouTube/Lynda playlist in one click
Build your video library downloaded videos
Part 1. Top 6 Alternatives to Facebook Video Player
GOM, short for Gretech Online Movie Player, enables you to watch videos on your computer with ease. This program is also available for iOS and Android devices which could be your best video player for Facebook.
Pros
The program is totally free, and it provides multiple helpful functions.
The player is easy to operate and even the new users can handle it easily.
Cons
The program has a problem of sudden crash.
VLC Player is one of the most popular video players which is available for iOS devices, Android devices and computers. VLC Player is totall free to use, and it offers multiple functions to help you watch the Facebook videos without any quality loss.
Pros
The program enables you to watch all kinds of video files, regardless of the video formats.
The program ensures the video quality and allows you to watch the videos with its original quality.
Cons
At times, the users may come up with the volume problem while using this video player.
The latest release of this MPlayer has fixed a lot of bugs, and enhanced the using experience. This video player program has a very friendly user interface and it enables you to watch videos smoothly.
Pros
The video player fully supports you to add videos into a playlist so that you can watch them easily.
The dynamic playlist creation allows the you to modify the playlist to keep it organized.
Cons
This video player at times malfunctions while playing videos. The Internet radio of this video player is not that functional.
This video player will help you to watch the videos online with the help of its helpful functions. This video player has a high ranking on the Internet, and the users like watching videos with this program.
Pros
This video player helps you to get the album artwork of the video while you are watching it.

This video player enables you to watch videos without any quality loss.

Cons

This video player has a promblem when you want to play the videos shot with iOS devices.

The user interface of this video player is not up to date.
UMPlayer is a cross-platform multimedia player which enables you to play all kinds video files, and if you can play videos on Facebook Video Player, you can play them on this multimedia player on your computer.
Pros
It fully supports different kinds of video files for playback.
This player also enables you to play DVDs and CDs without decompression.
Cons
This video player doesn't provide the editing feature for you to manage your video files.
This video player can't match the correct album artwork for you.
This video player is also a helpful alternative to Facebook Video Downloader that can help you to play different video files on your computer. This program will offer you great visual experience.
Pros
This video player enables you add video files to your computer and play them with no quality loss.
This alternative to Facebook Video Player has a good user interface, and helps you to handle it easily.
Cons
This video player doesn't have the feature of loading subtitle files.
This alternative to Facebook Video Downloader doesn't offer desktop notifications.
Part 2. Download Facebook Videos to Local Hard Drive
Before playing Facebook videos on your computer, you'll want to download Facebook videos to your local hard drive for playing them with the video player. If you want to download Facebook videos, you can take advantage of the video downloader program to get the work done. Among all the video downloader programs, iVideoMate Video Downloader will be helpful for the task. This video downloader program is used for downloading videos from the video sharing sites, and it enables you to download videos without quality loss. This part will show you how to download Facebook videos to your computer so that you can enjoy them with the alternatives to Facebook video player on your computer.
How to Download Facebook Videos Hard Drive
Step 1. Download and install iVideoMate Video Downloader. Installation is very simple and in a few seconds, it will be done.
Step 2. Run the program and then you'll see a main interface as the image shown.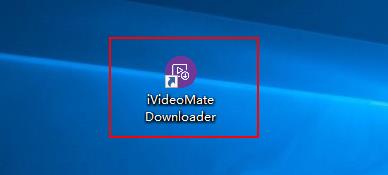 Step 3. Go to the facebook video page, select the URL and right click on it to copy the URL. It must be like this For Example: https://www.facebook.com/filevid/videos/987654321XXXXXX/
Step 4. Go back to iVideoMate Video downloader and Click the "Paste URL" button
Step 5. Then start downloading from facebook. After the download is complete, you can find the video you downloaded on the "Complete" tab.
More Tips about Facebook Videos
How to Copy a Facebook Video:
If you are a Facebook addict, then you might have the impulse to save Facebook videos shared by your friends and family for storage purposes or future entertainment. With the booming popularity of Facebook, internet is teeming with interesting videos shared extensively. You will find many of your friends updating their statutes with videos that lure you to an extent that you want these videos to grace your PC or Mac. Today, I will share two ways to save any of your chosen videos from Facebook directly with much ease.
Option 1 - Some of the programs such as Facebook video downloader are designed for the said purpose. Not only is it a powerful Facebook downloader making it easier to save any of the videos from Facebook to Mac but can also convert any of the saved Facebook videos to numerous other popular devices or formats.
Option 2 - Another way is to use any of the websites offering online video saving option, but it might fail at times owing to slow speed of the network. Simply enter the URL of Facebook video that you want to save and tab on 'Save'. So, here you are with your favored Facebook video onto Mac in just no time.
How to Download Facebook Video on Mobile Phone:
The applications are also one of the handiest platforms that could be used to get the work done. The user needs to download the application and just a few hits are required to perform the job.
HD video downloader that has been developed by New Essence for the major mobile platforms i.e. Android and iOS, is one of the kinds of program that leads a user to download the videos without much hassle and issue. The process as well as the overall layout of the application is user friendly and therefore it is highly recommended. The user can download not only the videos but also the clips as well as those pieces that are geographically restricted.
*The download speed is faster.
The application has a sleek outlook and it is easy to use.
The downloading log as well as the history is maintained for future use.
But it also has drawbacks like:
When it is running the overall phone become laggy with different warning signs
The quality of the videos are not good.