When you upload a video to Facebook, you can set the privacy to Public which means anyone can see it. If you not set it to Public, then the video is a private video. If you post a video to a private group, then the video is also certainly a private Facebook video.
In this post, I will show you 6 methods to download Private Facebook Video in HD or SD. Of course, you can also use these methods to download public Facebook videos. If you see there is no Share button below a Facebook video post, then that is a private Facebook video and you can choose one of the methods below to download it.
6 Methods to Download Private Facebook HD Videos
Method 1. The best private facebook video downloader I recommend iVideoMate Video Downloader
Use iVideoMate private facebook downloader
Support free downloading videos from more than 1,000 websites without any advertisements interrupting.
Download Niconico or other online videos to MP4, WebM, and 3GP in 144p, 240p, 360p, 720p, 1080p, 2K, 4K, 8k quality.
Provide audio quality such as 64kbps, 96kbps, 128kbps, 256kbps, and 320kbps.
How to save private facebook HD Videos with iVideoMate Video Downloader?
Step 1. Download and install iVideoMate Video Downloader. Installation is very simple and in a few seconds, it will be done.
Step 2. Run the program and then you'll see a main interface as the image shown.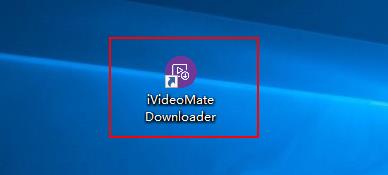 Step 3. Go to the facebook video page, select the URL and right click on it to copy the URL. It must be like this For Example: https://www.facebook.com/filevid/videos/987654321XXXXXX/
Step 4. Go back to iVideoMate Video downloader and Click the "Paste URL" button
Step 5. Then start downloading from facebook. After the download is complete, you can find the video you downloaded on the "Complete" tab.
---
Method 2. Download Private Video from Facebook with Allavsoft
If you prefer a GUI software, then this Allavsoft is your thing. Unlike YouTube-DL, Allavsoft allows you to download any Facebook video by just pasting the URL without the need to type your login info each time. You probably don't want to install one program to download Facebook, another to download YouTube, and another to download Deezer music.
Besides Facebook video, you can use Allavsoft to download 4K YouTube video with audio, download Spotify Mp3 or any other media without recording.
Let me show you how this software works.
Step 1. Right-click on the private Facebook video, and select Copy the URL. Next paste the selected private Facebook video URL to Allavsoft.
Step 2. For the first time, you will be asked to input your username and password. You can choose to save the downloaded private Facebook video as MP4, AVI, MOV, etc.Facebook Video Downloader
Step 3. Click the "Download" button to start downloading the private Facebook video.
If you like how this tool works, you are lucky because there is a limited time offer that allows you save 30% when you buy Allavsoft Lifetime License key. If you are using a Mac, use this link.
---
Method 3. Download Facebook Video on iPhone
You can also download private Facebook video on iPhone using Siri Shortcuts. If you don't know about Siri Shortcuts, then you have missed a lot. Shortcuts app can do many things and downloading Facebook videos is among them.
Just free download the Shortcuts app and get this Facebook Video Downloader shortcut. You can open the shortcut link in Safari to get it. Then you can use Shortcuts app to download private Facebook video to iPhone Camera Roll.
Step 1. Open Safari and log in to your Facebook account. Go to the page of the private Facebook video that you want to download.Private Facebook Video Downloader
Step 2. Tap the Share button (Safari) and select Shortcuts. You can also copy the video link from Safari and run this shortcut.
Step 3. Select the Private Facebook Video Downloader shortcut.
When it is complete, you can open the Photos app to check the video. This shortcut can also be used to download public Facebook video.
Method 4. Download Facebook Video from Command Prompt
If the add-on is not your thing, you probably going to like this open source software, YouTube-DL, which is available for downloading videos from 400+ websites. Y ouTube-DL is available for Windows, MacOS, and Linux. I will just going to show how to get it to work in Windows. You can check this post to see how to set it up in MacOS.
Step 1. Download YouTube-Dl.exe and move it to your user folder (C:/User/YourName).
Step 2. Press Windows + R. Type "CMD" (without quotes) and press Enter.
Step 3. In the Command Prompt window, type "youtube-dl.exe [Facebook video url] –username [Facebook account] –password [Facebook account password]" and press Enter.
That's it. You will see the downloading is in progress. When it is done, you can find the downloaded video in your User folder.
Method 5. Download Private Facebook Video with Firefox Addon
If you want to download Facebook video in HD, you can get this Video Downloader Professional Firefox Add-on. There probably is a Chrome extension also works with private Facebook video, but Firefox is recommended.
With this Firefox Add-on, it is very easy to save private Facebook videos. You can just copy the video URL and open it in a new tab. And then in the Facebook video page, click on the Video Downloader Professional add-on icon. From there, you will see a few download options with the different video quality. You can just click on one of them to download this video.
This add-on is capable of download videos from many websites besides Facebook.
Method 6. Download Private Facebook Video with Only Web Browser
Most videos uploaded by your friends are private videos because it is the default settings. In order to download a friend's video from Facebook, try the following steps:
Step 1. Right-click on the private Facebook video and select Copy the URL.
Step 2. Replace the "www" with "mbasic." in the video URL and open it in a new tab.Download Private Facebook Video
Step 3. Click to play this video and a new tab will be open.
Step 4. In the new tab, you can see a download button under the video. You can download this private Facebook video by clicking the download button or right click on the video and select Save Video as…
This is so easy, but this method can only download video from Facebook in SD. If you want to download Facebook video in high quality, check the next methods.