Today, watching videos has never been more convenient and easier. If from before you need to rent tapes and go to movie houses to entertain yourself, nowadays all you need is a reliable internet connection and a capable device. Along with this, a great video hosting site will keep you busy for hours. Dailymotion is one of the biggest video platforms in the world. Currently, it has millions of videos from full length films to TV shows, funny clips, DIY tutorials and others.
And Mobilephones are a part of our daily life and we conduct a lot many activities using them. Among these, downloading and listening to music videos or movie videos is one. But Dailymotion doesn't allow users to download videos directly, we can use other 3rd party downloader apps to help download Dailymotion videos.
Part 1. Top 3 Dailymotion Downloaders for Android
---
iVideoMate Dailymotion downloader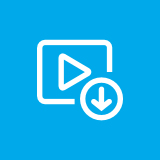 iVideoMate Video Downloader allows you to download videos from more than 10,000 video-sharing sites (explicit), including YouTube, Facebook, Netflix, Dailymotion, Vevo, CBS, Twitter, Lynda , Instagram, etc.
---
Video Grabber
Download URL: https://play.google.com/store/apps/details?id=com.sckatos.oldallgrabber
This app allows you to download videos to your Android phone from Dailymotion. It is compatible with all Android devices in the market. Users can download the app and after installation, play videos which automatically ask the users for his choice.
Video Player for Dailymotion
Download URL: https://play.google.com/store/search?q=video player for dailymotion&c=apps
It helps the users listen, watch, manage and sync the music videos and can do it even without an Internet connection (using a cache mode). Users can search and play videos, view history of watched videos, play videos in background. It has a user friendly interface that keeps the most frequently used features available for immediate access and is available in multiple languages.
All Video Grabber 2
Download URL: https://play.google.com/store/apps/details?id=com.sckatos.videograbber
This one allows users to download videos from Dailymotion. Once installed, users can open videos using their browser and click on "Option>Share". Selecting "All Grabber" from the list, open the application and click Grab.
Part 2. Top 5 Dailymotion Downloaders for iPhone
Cloud Video Player Pro - Play Videos from Cloud
This tool works very fine for downloading videos on iPhone. This Cloud Video Player Pro let's you download videos from any website and downloading is very simple with just a finger tap. This tool also supports different video formats. Cloud Video Player Pro supports different video formats like .m3u8, which is Dailymotion's downloading format but remember videos having .m3u8 format can't be transferred to cam roll of iPhone. In settings, you can also enable the option of a passcode. There is an interesting feature in this best free video downloader for iPhone which is Air-play, from that you can also play the downloaded videos on other Apple devices as well.
App Link: https://itunes.apple.com/app/id937616953
iDownloader-Download Manager
iDownloader is just not an ordinary downloader like others which only download videos from internet but it has an interesting feature which is that it can also let you download important documents and audio files on your iPhone. A built-in browser of iDownloader has very unique features like it can download more than 50 videos at a time. The iDownloader is the best video downloader for iPhone which is also an amazing file viewer and file manager. 'iDownloader-Downloads and Download Manager' is free of cost and highly recommended.
App Link: https://itunes.apple.com/app/id660557564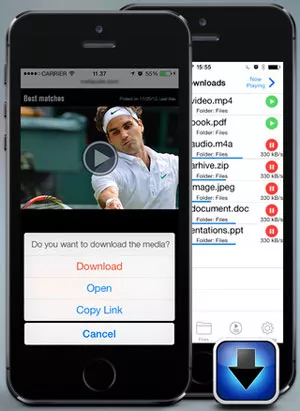 3.Video Downloader-Media player and Download Manager
Video Downloader is a very accurate and easy to use application. This free video downloader for iPhone has a built-in media player which plays your downloaded videos at an instance. The interface of Video Downloader app is very user-friendly and anyone can use it with an ease. This best video downloader for iPhone can download videos of any format from all over the internet and you can also set a passcode on the application to keep your data safe. This video downloader for iPhone can transfer saved videos to camera roll and by using a Wi-Fi transfer option you can directly transfer stuff to your Mac and PC.
App link: https://itunes.apple.com/app/id560358913